Mold Removal in Southeast LA
The biggest problem is that you can't detect its presence right away when it comes to mold infestation. Your property could have a mold infestation, but you may not notice until it spreads and becomes a nuisance- negatively affecting the visual appearance of your property and the health of your loved ones.
Whether your property has gone through a minor or major water damage incident, it makes sense to schedule a mold inspection. This is because mold grows in damp, dark, and hard-to-reach places. It takes only 42 to 72 hours for mold spores to spread and infest your property. Therefore, if you act fast, you can identify the problem and get rid of it before the damage is done.
At 911 Restoration of Southeast LA, we specialize in mold removal in Southeast LA. Get in touch with us for mold restoration near me. From conducting an in-depth mold inspection to mold testing and mold remediation in Southeast LA, we assist you with them all. Our goal is to ensure good indoor air quality and a healthy environment free from mold spores for you and your family.
We Treat Mold as an Emergency
If you suspect mold in your home or office, contact us right away. We are available round-the-clock- 24x7x365. Once you call us, our IICRC-certified and seasoned team will be at your service within or less than 45 minutes.
At 911 Restoration of Southeast LA, we treat mold as an emergency because we understand the damages it can cause. Mold spores travel through the air. This means they can lower your indoor air quality before you know it. More importantly, exposure to a large number of mold spores can cause respiratory problems like breathing problems and aggravate asthma in those who already have this problem. It can also cause allergic symptoms in people like watery eyes, itching, wheezing, headache, fatigue, sneezing, and coughing.
Also, certain mold types like Aspergillus and Stachybotrys can release toxins known as mycotoxins. Exposure to these toxins can cause serious illness and sometimes even be fatal.
Besides health issues, a mold infestation can wreak havoc on your property. It can eat away household materials and structures. This is because it feeds on organic materials. Hence, mold infestation is likely to hog on wood, wallpaper, drywall, ceiling tiles, carpet, wooden studs, floorboards, and other structures. If left unchecked, it can cause damage big enough to collapse ceilings, walls, and caving in of floorboards. That's right; the disaster can be massive.
Therefore, never let the situation reach this point. Immediately call us for professional assistance with mold removal in Southeast LA. We respond fast to your emergency.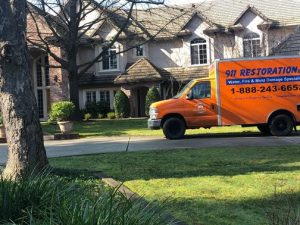 We Deliver Quality Assistance for Mold Remediation in Southeast LA
At 911 Restoration of Southeast LA, we provide you with quality and comprehensive assistance with care and compassion. Our certified professionals responsibly perform an in-depth inspection for mold infestation in your home and office. Next, we take samples and get them lab-tested to determine the type of mold presence. Remember that there are more than 200,000 species of mold. Therefore, identifying the exact type truly helps take the proper measures to ensure the complete eradication of mold from your property.
For more information or mold inspection and removal services in Southeast LA, feel free to contact us now.