Disaster Restoration in Southeast LA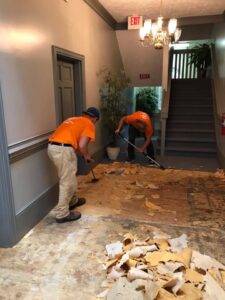 Southeast LA is generally a peaceful area to live in as far as natural disasters are concerned. However, emergencies and disasters often strike without warning. The weather, which is generally calm, can take a turn for the worse during certain periods. The forces of the weather can pick up over time and significantly damage roofs, walls, properties and other residential structures. As a result of this damage, homeowners are often on the lookout for a disaster restoration service that they can trust. 
Before natural disasters strike and damage your properties, you should have a disaster restoration service shortlisted for the future. A good disaster restoration service can help safeguard your interests and give you an excellent restoration job for the future. 
911 Restoration of Southeast LA has been in operation for quite some time now and should be your preferred option when it comes to restoration within the city. Our company has been in operations for quite some time now and has experience with residents from all over the country, let alone Southeast LA. Natural disasters and emergencies can come without warning, which is why our services are available around the clock to help safeguard your interests and give you proper service. 
Storm Damage Restoration in Southeast LA
Due to the general climate conditions in the region, the city of Southeast LA is safe from tornadoes and hurricanes, which are quite the norm in other areas. However, the region is still susceptible to damage from rain and torrential downpour. Water from rain can kick in and damage structures, leading to water damage and storm damage. 
Our storm damage repair professionals know what to expect from this process and are here to provide stellar service. The cost-effective solution our experts provide starts from assessing the damage to your property and giving you a shoulder to support your problems at the moment. Damage from disasters and storms can bring a lot of emotional distress as well for residents. We understand the emotional qualms arising from this problem and will help manage insurance claims for you. 
Disaster Damage to Your Property
Disaster damage can usually damage the structure of your property as well. The damage usually means that your property requires a major revamp from top to bottom. Once your house suffers from disaster damage, it is necessary that you don't step into it for the time being. Only step into the house when you have the right personnel available alongside you. 
You should get in touch with 911 Restoration of Southeast LA as soon as the damage transpires. Once you kickstart the restoration process, our trained specialists will make sure that the damage is assessed and corrected. All of our specialists are highly trained and IICRC certified and can help you deliver results in time.
How we Look after Disaster Restoration Service in Southeast LA
We help provide a wide array of disaster restoration services to residents in Southeast LA. We help residents get back on their feet after a disaster and be able to start their life after the damage has passed by. 
Our cleaning processes are extremely strategic and will make sure that everything is planned. We follow tips and strategies from our experience and make sure that all guidelines are followed. 
The disaster restoration process starts with clearing away the mess and the debris created during the damage. We remove all goods and applications that are salvageable from the mess. Moreover, we throw away goods that are beyond repair and cannot be scrapped. 
We understand that storm damage can also bring up other damages through standing water, which is why we also look after mold repair and water damage repair. We make sure that everything is good to go for the future. 
You can get a free inspection from us at 911 Restoration of Southeast LA today. Just give us a call and benefit from our services.