Fire Damage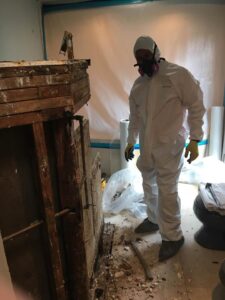 The stress, chaos, and damages caused by fire are indescribable. No trauma seems bigger and more disastrous than watching your property and precious belongings burn because of a fire breakout. Fire can occur in an office or home due to many reasons. The challenge doesn't end once the fire is out. The aftermath of fire damage is equally frustrating and stressful to deal with on your own. This is why it is best to consider professional help with fire damage restoration in Southeast LA. Call 911 Restoration of Southeast LA for quick and reliable fire and smoke damage restoration assistance. 
Seasoned and Responsive Fire Restoration Contractors
At 911 Restoration of Southeast LA, we provide you with comprehensive and responsive fire restoration and smoke removal services. As soon as you contact us for help, we dispatch our expert team of IICRC-certified and seasoned professionals. We arrive at your assistance within or less than 45 minutes. 
Being a part of the local community, every client is our neighbor. Hence, we are always there to help you when you need us most. 
Our team understands the dangers and damages that a fire can cause. Therefore, we come with all the latest equipment and safety gear to handle the water damage and fire cleanup restoration task to your complete satisfaction. We take advantage of our years of industry experience, access to state-of-the-art equipment, and training to speed up the restoration process and ensure your property looks as good as new. 
Whether you're dealing with damages caused by a kitchen fire or an electrical fire, you can count on us. We specialize in handling all types, sizes, and scopes of fire damage in any setting- office, home, or warehouse. 
Specialized Fire Damage Restoration Services for a Fresh Start
We understand that it can be tough to think straight and stay positive after a catastrophic fire damage incident. Our empathic team helps you see the silver lining, which is the ultimate opportunity to take a fresh start and give your home or office a new look. 
At 911 Restoration of Southeast LA, we work with you cohesively so that you are well aware of the project progression and let go of the stress and worries knowing that your project is in qualified hands0 A team you can trust and lean on. 
Our specialists handle all aspects of your fire restoration project. We take care of everything from property inspection to deep cleaning, water extraction, dehumidification, Cleaning, disinfection, and cosmetic and structural repairs so you don't have to.
As industry experts, we know that there is more to fire damage than meets the eye. Therefore, we go the extra mile to serve you. We also handle the hidden damages of fire, which are often hard to detect, such as smoke and soot damage. Property owners often don't realize the damages soot can cause. Though soot particles in the air are invisible, they can enter your bloodstream and cause respiratory problems, bronchitis, stroke, heart attack, and even asthma. Therefore, it is vital to get rid of soot and smoke particles after fire damage to ensure good indoor air quality and a healthy environment. And that's what you can expect from us. Our crew takes special measures and ensures complete soot, smoke, and odor removal. 
You can trust us at 911 Restoration of Southeast LA for a job that you will be happy with and proud of, just like our other satisfied clients. So, don't wait; call us now for fire damage restoration in Southeast LA. We will get you back on your feet quickly so you can return to your life as soon as possible.